Made for tomorrows sales teams
With haeppie you get one Space, for your entire deal. Keep track of shared documents and links and see how your customers interact with your sales content.
All your sales content –

shared in one Space
All documents and links are stored centrally and can be found again quickly. The haeppie Sales Space creates one central place where you can exchange information with your customer, accessible from anywhere at anytime.
✓ keep track of the content you have already sent 
✓ no more searching in email inboxes
✓ share the space and work effortlessly together with colleges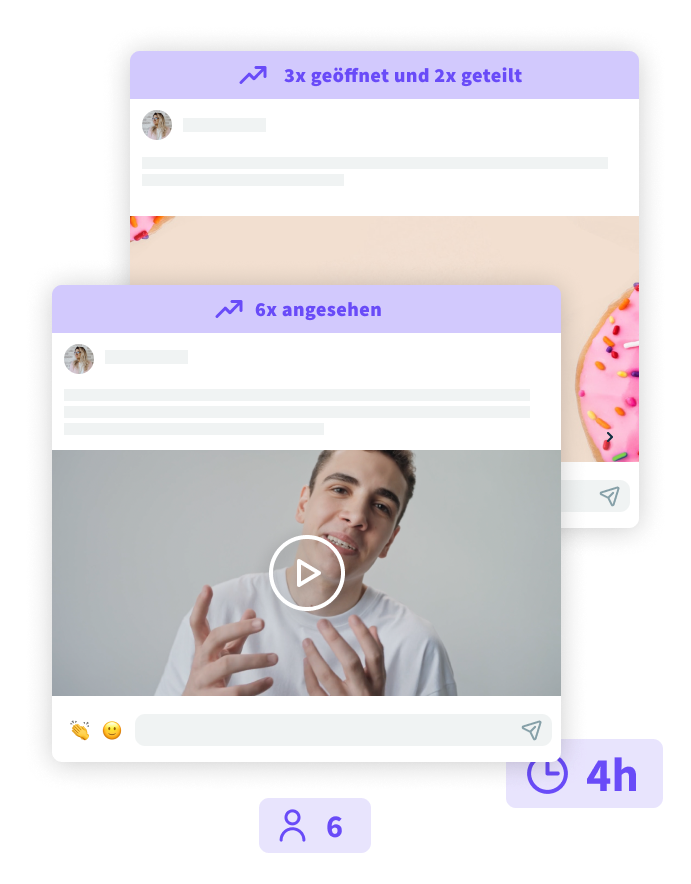 See what your customers are

really interested

in
Whether you post links, documents, presentations or other content, haeppie shows you with which content your customer engages. No matter how you work, haeppie helps you understand your customer so you can better attend to their needs.
✓ track content opening rates 
✓ gather valuable insights for future sales engagements
✓ track your companies sales performance 
Share content from the

tools you love
You can publish sales decks, presentations, pictures and links from Loom, Hubspot and Co. into your Sales Space. haeppie supports every sales tools out there.
✓ unite all your sales tools 
✓ Posting is as easy as on LinkedIn
Single link

vs. email ping pong and inbox search
Distributing content to varies parties in the sales process has never been easier than with haeppie. New decision makers wants to know how the process is going? Simply invite them with a quick link, saving you time with less meetings to get everyone on the same page.
✓ simply share the Sales Space with a private link
✓ no registration necessary for your customers
✓ let customers share the Space with other decision makers



1️⃣ New contact? Create a Sales Space

You want to send your prospect an initial presentation? Quickly create a Sales Space that can be used throughout the entire sales engagement



2️⃣  Publish your sales content

Post a pitch presentation, your portfolio or an introduction video in the haeppie Sales Space and leave a comment for your potential customer. Posting is as easy as on LinkedIn.



3️⃣ Share the Space with your customer

Just one link – that's all you need. Share the private link and start the sales process in the Sales Space.
Inspire your customers
✓ Individual Sales Spaces for your customers
✓ Setup in under 60 seconds